Artic-850 Fast Rescue Boat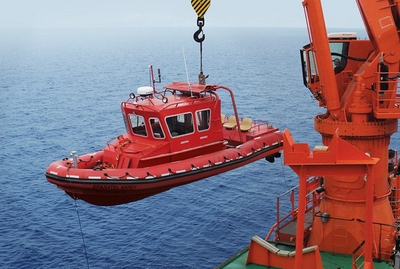 Hull material:AMG alloy, marine grade aluminum
Dimension: LOA 8500 mm, Beam 3100 mm, Height 3300 mm
Minimum draft,: 300 mm
Light-ship displacement, kg:2500
Passenger capacity, persons:17
Fuel storage: 300 l
Speed, knots: 35
Engine power: Diesel engine Volvo Penta 2x 220 hp
Certification: RMRS, CE, DNV
Artik-850 RIB (Rigid Inflatable Boat), deep "V" hull with mid-wheelhouse, aft engine room and aft cockpit.
SOLAS-74 as amended, Chapter V of the LSA Code, as amended by MSC.218 (82), MSC.272 (85)
IMO resolutions MSC.81 (70), MSC.226 (82), MSC.274 (85).
Lifeboat Artik-850 is used to rescue people in the water, collecting and towing life rafts, also as a working boat.
Operation at an outdoor temperature from -30С to +50С, relative humidity up to 85% and outboard water temperature from -2С to +40С.
The boat can be operated at low speeds in small-battered rarefied ice up to 5 cm thick of non-Arctic seas.
Propulsio and engines: 2 Volvo Penta diesel engines 220 hp + stern drives Volvo Penta.