ST 1000 Patrol is a multi-purpose powercatamaran platform.
The vessel is intended for multi-purpose use (as a pleasure boat, pilotage vessel, patrol vessel, salvage boat, etc.) ST 9000 it semicustom catamaran which can be made for you of fibreglass or aluminium, or the hull from aluminium, and a deck and cabin from fibreglass.
The vessel is intended for operation in a coastal zone of seas and large lakes with the distance from ports/havens not less than 60 miles. The vessel has elongated cabin with good visibility and space for 6-8 persons. The control panel is placed there, seats for 6 persons and toilet.
The vessel has an extensive board-to-board cockpit about 3,5 m long for storing equipment. Spacious lockers in the cockpit can be used for moorings storage, etc., their lids provides seats for passengers.
The stern recreational area makes easier diving and landing/boarding of passengers.
The boat makes 24-28 knots without load and 15-18 when laden.
Propulsion:
The geometry of hulls of this project allows to move as in a high-speed planing at sufficient capacity of engine power, and in transitive and in economic float modes. The maximum speed with incomplete loading to 32 knots, an economic mode - 22-24 knots and 15-18 knots in cargo.
On the given class of ship following variants of a engine power can be established:
Traditional variant of installation of propellers (with propeller shaft), thus screws settle down partially in tunnels and can be, if necessary, in addition protected IVECO NEF 150 with gear ZF280 (speed to 15 knots)o IVECO NEF 280 with gear TM 880 A (speed to 22 knots)o NEF 370 (400) with gear ZF 280-1A (a planing catamaran speed 30 - 35 knots)

Hamilton Jet HJ 213 (for speeds to 18 knots).Hamilton Jet HJ 292 (for speeds more than 25 knots)

Sterndrive with engines Volvo Penta D4-225 - D6-370
Spesification:
LOA 10,0 m

Beam 4,8 m

Draft (maximum load) 1,0m

Displacement (full) 11800 kg

Category "B"

Payload (max) 4000 kg

Engines 2x175 (2x380) h.p.

Fuel 2x750 (2x1100) l

Fresh water 200 l

Dsl generator 3-8 kW

12V DC, 230/370 V AC

Fassi M15 AFM 12 Sea Crane (500kg x 3 m)

12V or dsl Hydraulic unit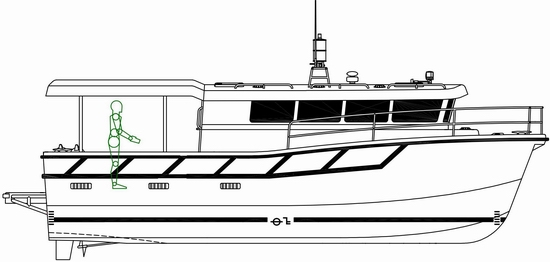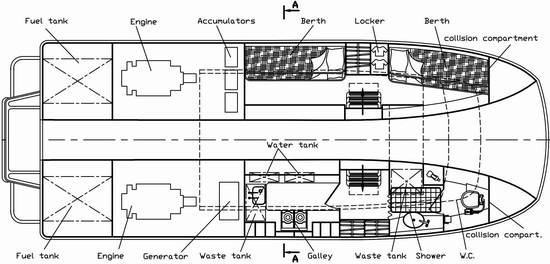 Transporter, Ocean Fishing Gide, Pro Fisher
"Short cabin" versio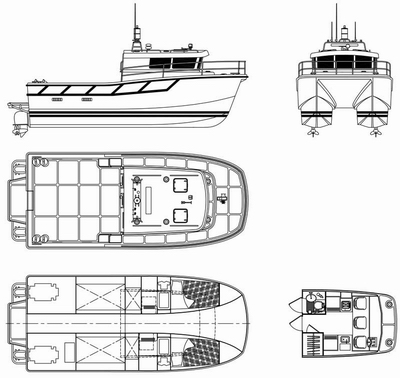 STM 10000 "Combat" can be equipped with ballistic guard protection of cabin, engines and fuel tanks under the standard NIJ 0101.8. (against FMJ 7.62 mm 15m; 800 m/sek; Magnum .44 5 m; frags from fragmentation grenade 800 m/sek). Weight of additional protection no more than 1300 kg. Windows of cabin are protected by demountable boards with embrasures.
Combat is usincable, emergency buoyancy provides special poliuretaine foam.