ST-12000 universal platform
High stability, high clearance of the bridge and therefore excellent seakeeping, and spacious rooms and a large deck area allow you to create on the basis of ST-12000 platform floating research laboratory for a long stay in the sea,
or powerfull multipurpose workboat.
Broad and rectangular in plan deck allows you to place virtually any equipment for the working in the sea.Large modular cabin of ST-10000 with additional modules and spacious rooms in the hullss can comfortably accommodate for forwarding employees work crew of 4 - 6 people.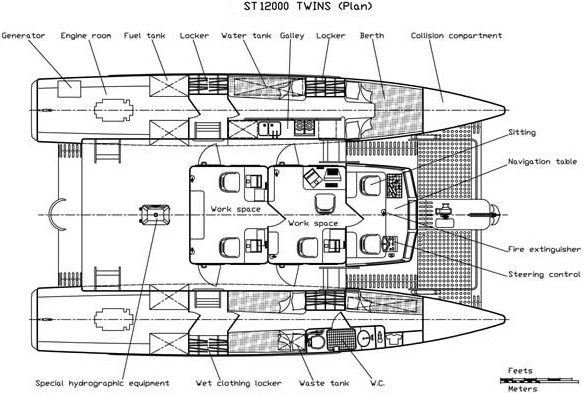 The project ST-12000 "Twins" is modular and can be equipped with removable deck modules for different types of research activities. With a length of 12 m and a width of 7, this catamaran can be disassembled and transported in shipping containers or trucks (the width of a single module is less than 2.5 m) accommodation descent equipment on the bridge between the buildings in the protected zone geometry hull is optimized for maximum fuel and minimizing the required power saving engine seaworthiness of a class "B".
Propulsio:
Catamaran ca be equipped with water jet propulsion units can quickly move to the shallow depths and shoals approach the shore.

Equipment conventional propellers catamaran will cost to move in transition and displacement modes that provide greater autonomy in remote areas of research
Traditional variant of installation of propellers (with propeller shaft), thus screws settle down partially in tunnels and can be, if necessary, in addition protected o IVECO NEF 150 with gear ZF280 (speed to 12 knots)o IVECO NEF 280 with gear TM 880 A (speed to 18 knots)
Hamilton Jet HJ 213 (for speeds up to 15 knots).

Spesification:
LOA 12,0 m

Beam 6,8-7,5 m

Draft (maximum load) 1,0m

Displacement (full) 21000 kg

Category "B"

Payload (max) 10000 kg

Engines 2x150 (280) h.p.

Fuel 2x 750 (1100) l

Fresh water 350 l

Dsl generator 3-8 kW

12V DC, 230/370 V AC

Fassi M15 AFM 12 Sea Crane (500kg x 3 m)

12V or dsl Hydraulic unit
Our task - the maximum efficiency and ecological compatibility of of the project.
We spent a great work of research and towing tests to optimize the fluid dynamics of the hulls of the catamaran and reduce resistance during movement, We tested three different models, 1:4 in nature testing, with different distances between the buildings and with different load, we tested three different models an full range of speed, with different distances between the buildings and with different load:
First prototype hull in the building process: