ST-15000 Sun Dream
SunDream 50 it is high-speed and very dynamical catamaran which is intended for exacting and skilled yachtsmens, wishing to move with speeds 20 + knts. The case sandwitch designs on basis PVC of polyfoams Divinycell (Corecell), the best multiaxial fabrix and epoxy resin. (the Project in the base budgetary version does not provide application of cellular fillers and carbon, but at the request of the customer the vessel can be made of them, that will reduce displacement by 1500 kg and even more will increase its popularity).
At the request of the concrete customer the folding variant of this catamaran is designed. The catamaran can be disassembled for transportation or storage. Thus the greatest width of a detail - 2500 mm. At manufacturing a not folding catamaran the internal lay-out is considerably improved, also weight on 600 kg will be reduced
LOA 15,2 m

Beam max. 9,0 m

Sponsons beam 2,5 m

Draft (CWL) 0,5 m

Displacement 7,0 t

Engine power 2x30 h.p.

Hull material GRP

Generator 3 kW

Fresh water 500 ltr

Fuel 400 ltr

Crew 8

Mast height 25 m

Sails:

main 80 sq.m.,

jib 60 sq.m.,

genoa 85 sq.m.,

genakker 150 sq.m.
Deck Plan: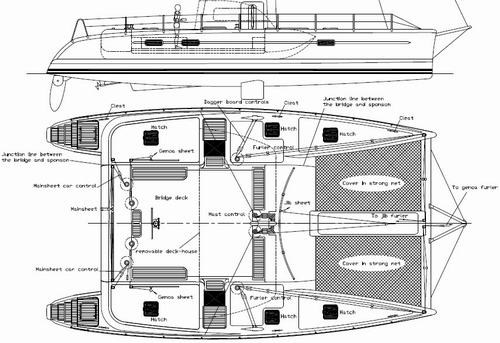 Interior:
Sail Plan: