ST-6800 SeaWorker is a high-speed multi-purpose motor boat.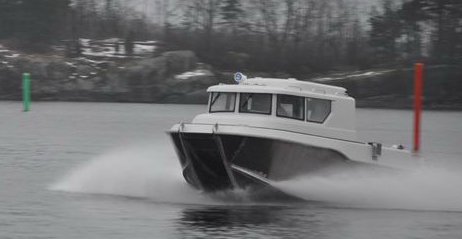 The boat can be used as a day-to-day transport vessel, pilot boat, hydrographic, fishing, diving boat, etc.
It is intended for operation in sea coastal zones and on largelakes with operation range of more than 20 miles.
The two hulls of this catamaran have three pairs of spray rails. The boat dimensions allow its trailer-towing.
The boat has a glassed cabin providing good visibility and seating for 2-6 persons.
The boat features extensive, spacious, board-to-board cockpit.
The stern platform allows easy access to the engine, comfortable boarding and unboarding, and diving.
The maximum speed with minimum load is about 35-40 knots, 25-30 knots under full load.
Outboard motors can be used on this boat as the main engine.
Two types of power units can be used on the boat depending on the vessel's usage mode:
two engines 115 h.p. each

one engine 225-300 h.p.
Specification :
LOA 6800 mm

Beam 2500 mm

Hull Draft Anchorage 400 mm

Light Displacement (without motor) 1300 kg

Displacement 2500 kg

Pay Load max. 2500 kg

Category C

Seating Capacity 2-6 pers.

Free-board 1 m

Fuel Tank 2x110(200) ltr




ST-6800 "Hydrograph" Layout: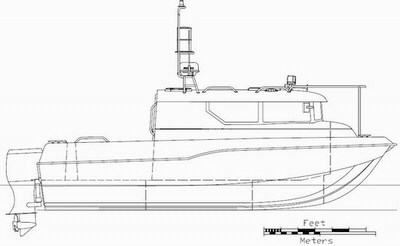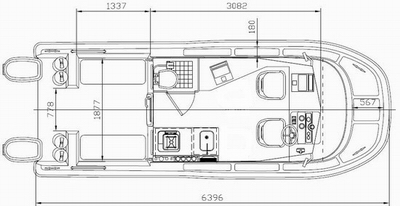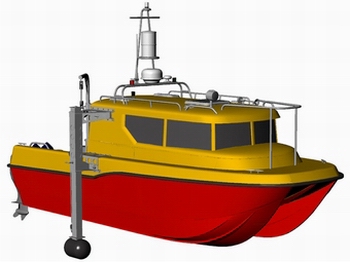 GRP-hull in workshop:
Open version layout:
Rescuer with open deck, bow cover, semirigid inflatable fender
Double console