Artic 850 Work Boat

Hull material:AMG alloy, marine grade aluminum
Dimension: LOA 8500 mm, Beam 3100 mm, Height 3300 mm
Minimum draft,: 300 mm
Light-ship displacement, kg:2500
Passenger capacity, persons:17
Fuel storage: 300 l
Speed, knots: 35
Engine power:Diesel engine Hyundai Seasall 200 hp
Certification: RMRS, CE, DNV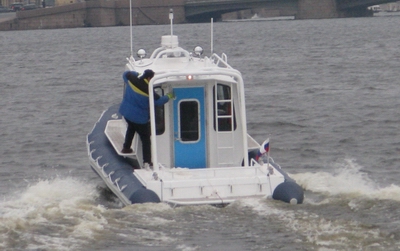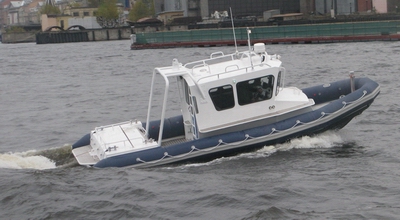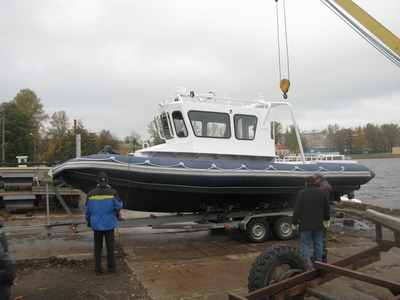 Planned deep "V" hull, RIB (Rigid Inflatable Boat), cabin in the middle of the ship, the stern arrangement of the engine room and the stern cockpit.
The purpose of the boat: patrolling, search and rescue, personnel transport.
Navigation area: sea area or iland water ways basin with a wave height of up to 2.0 meters and a distance of 12 miles from the coast.
The boat is intended for operation at an outdoor temperature from -10С to +40С, relative humidity up to 85% and outboard water temperature from -2С to +40С.
The vessel can be operated at low speeds in small-battered rarefied ice up to 5 cm thick of non-Arctic seas.
Propulsio and engines: 2 diesel engines Hyundai Seasall 200 hp + stern drives Mercruiser Bravo or jet propulsion.