ST-48 "Anarquista"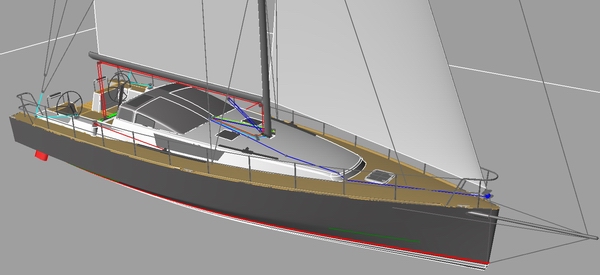 This yacht is a continuation and development of ideas of a 40-foot project "Anarquista Chika". More comfortable yacht, for the crew of 4-6 peaple, which will save all the high-speed features of the project 40. Ocean race sailing and fast cruising at the maximum possible speed in adverse weather conditions. Therefore, this yacht is also designed primarily for the maximum speed under sail and sailing competitions.

To achieve such speeds a yacht of this size should have a displacement of less than 11000 kg. Fast ocean race sailing and fast cruising at the maximum possible speed in adverse weather conditions. 48 feet is in our opinion the perfect size for a team of 6 people, or joint ownership of two families.
The "Fast Cruiser versio" of this project has all the extra options from the world of sailing ocean race yachts:
ballast tanks to improve stability 2x1250

(optional)

two entrances to the wheelhouse

efficient modern wiring running rigging

backstay and lowers the mast to support the use of modern sails

lifting keel 2500 kg (optional)

carbon mast

large cocpit for teamworking with sails
Construction:
sandwich hull based of epox resin followed thermostated

botom of hull in slamming area made from singleskin laminate

all bulkheads sandwich

in the internal structures used carbon (optional)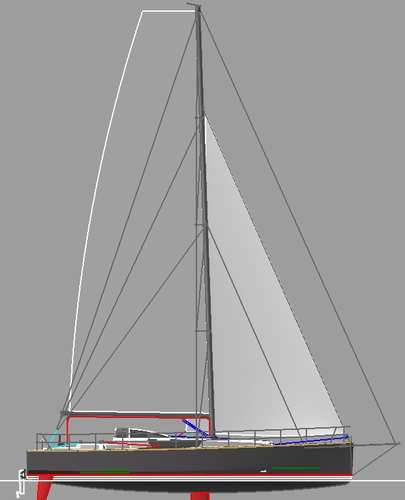 Specification:
LOA = 14.67 m

B max = 4.5 m

Lwl = 14.18 m

Bwl = 3.46 m

Hmid = 1.97 m

Thull = 0.55 m

Tkeel = 2.7m/3.5 m (fixed/lifting)

D = 10700 kg (cruis version, full displ., with one full ballast tank)

Ballast Keel (fixed) = 3900 kg (or 2500 kg lifting keel)

Water Ballast = 2x1250 kg = 2500 kg

Fresh water = up to 350 l

Fuel = 2x125 l

Crew = 6-7 per.

Engine = 48-56 hp, Sail Drive

Up-Wind Sails = 140 m2, Jib = 53.0m2, Main = 86 m2

Assymmetrical Gennaker up to 240m2
Interior layout (cruiser):
two main rear cabin

comfortable forecabin

2xWC

different shower

big table in salon

very large forepeak for sails storage

large drying chamber for wet clothes

large navigation table
Fast cruiser:
In the version of fast cruiser/racer, we also offer two entrances into the cabin, wiring all the halyards, haulers and halyard winches on the center. This simplifies and organizes working with the running rigging ropes in the cockpit well.
In this version we also offer change in the internal layout for maximum convenience of the crew of intensive work with sails and rest between watches.
Broad passes inside for bringing of bags with sails, large drying rack for wet clothes.